Chic Bags and Bliss - Weekly Top Womens Fashion Must Haves - WK42 Canvas Totes
Chic Bags and Bliss - Weekly Top Womens Fashion Must Haves - WK42 Canvas Totes
1. Giani Bernini Canvas Postcard Tote at Macys
Pricing and Purchasing Details Here
Now this is something to write home about! Meet the Giani Bernini Canvas Postcard Tote featuring a wonderfully whimsical postcard print accented with silver-tone hardware and plenty of pockets.
Medium sized bag; 13-1/2"W x 10-1/2"H x 4-1/2"D (width is measured across the bottom of handbag); 1.65 lbs. approx. weight
Silhouette is based off 5'9" model
10-1/2"L handles
Magnetic snap closure
Silver-tone exterior hardware, 2 zip pockets & 1 nylon zip pocket
========================================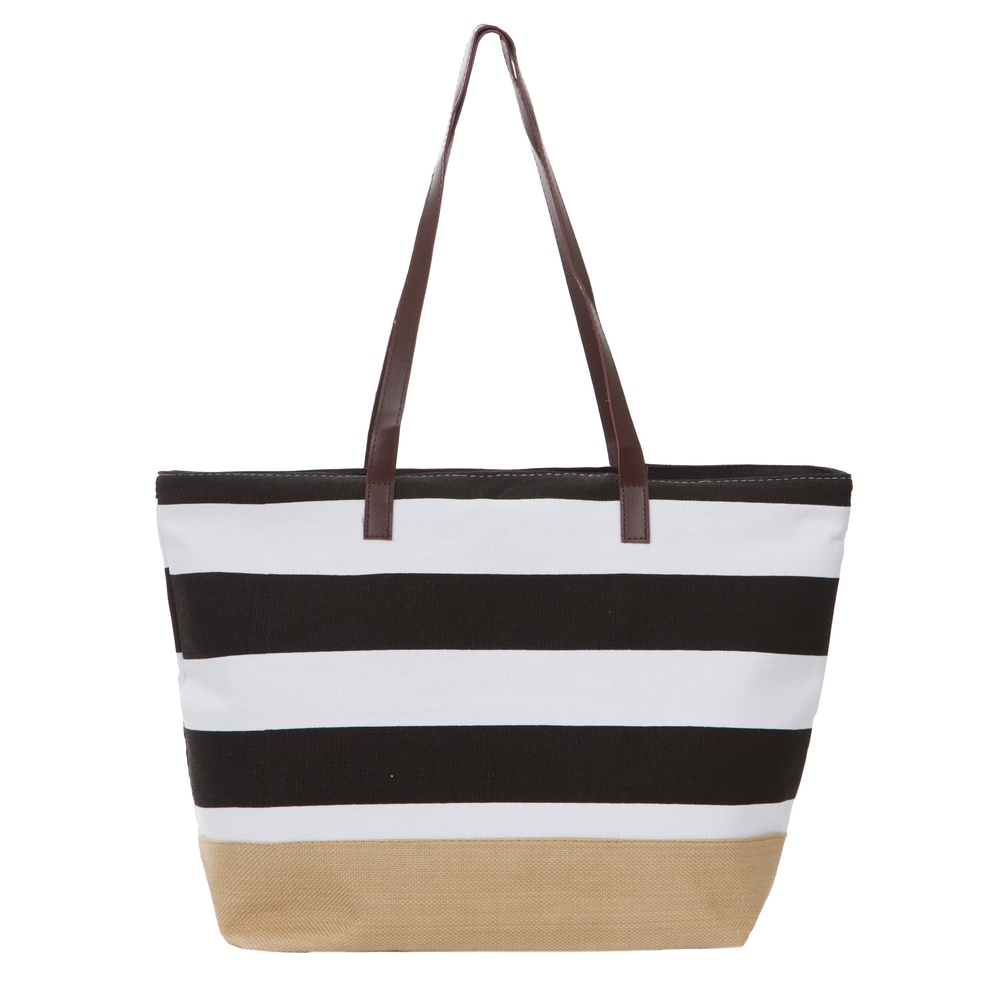 2. Stripe Canvas Tote with Faux Leather Handles at Overstock
Pricing and Purchasing Details Here
Your perfect accessory is in the bag with Leisureland's canvas tote bags. Made with water resistant cotton/polyester canvas and featuring a contrasting burlap bottom, these bags are both functional and fashionable. The interior is fully polyester lined, so they are easy to clean after a fun day at the beach or at the pool. We also made these just the right size to fit all of your daily essentials, so you don't have to leave anything behind when on the go.
========================================
3. Radley London Canvas Tote Bag Dog Print at QVC
Pricing and Purchasing Details Here
Whether it's carrying dog treats and a leash for your trip, or groceries from the store, this bag gives pause (and a smile) to all dog lovers. From RADLEY London.
Dog print, double handles
Back-wall zip pocket
18-1/4"W x 13-1/2"H x 5"D with a 10" strap drop; weighs approximately 9 oz
========================================
4. Myra Bags Sel De Mer Upcycled Canvas Hand Bag at Amazon
Pricing and Purchasing Details Here
This stylish Myra bag combines functional design with chic high fashion for everyday use. Myra Bags are made from upcycled materials like canvas tarps and tents, using recycled materials to avoid waste. The Myra Bag collection is about creating great fashion that's earth friendly. We add special detailing like leather handles, trim, and printed graphics to give Myra Bags a one-of-a-kind style.
Measures 13" W x 9" H x 5" D, 8" Handle Drop, Genuine leather accents
Each bag is truly original since they are made from upcycled materials
========================================
5. Chic Bags and Bliss Creative Pattern Canvas Tote at Zazzle
Pricing and Purchasing Details Here
The classic tote with a modern twist: all-over-print allows for 100% customization, bringing the basic tote to the next level. Your next shopping trip just got a little more earth-friendly and a lot more stylish!
Dimensions: 18"l x 18"w; Strap: 28"l
100% cotton web handles, sturdy brushed,
Printed then sewn for edge-to-edge designs
Black laminated lining for extra support
=========================================
Need a New Professional Look
Professional Styles at Macys
=========================================
Be the talk of the town
MCM Leather Bags
=========================================
Fast Loans
Easy Approval for Personal and Small Business Loans Here
=========================================